Vortex energy production is happening and is currently under research in a large facility in Russia.
Vortex energy principles involves the use of large cylinders 5 stories high or greater and the dynamics are the use of tornado type conditions within the unit that makes it possible to tap the energy produced from the vortex spin within.
That's more or less the Russian version.
Here are some of the pages on the russian site.
http://www.vortexosc.com/modules.php?name=Content&pa=showpage&pid=68
http://www.vortexosc.com/modules.php?name=Content&pa=showpage&pid=89
http://www.vortexosc.com/modules.php?name=Content&pa=showpage&pid=92
There is however a more simplified version and is far more efficient.
The same high cylinder applies except that in place of a weather condition we find a helix energy form produced by what are known as compatible tone pairs. This introduces a vibrational sound oscillation which in turn gives off energy as a helix form. There are various benefits for this as even within the loop of the helix matrix we can find zero gravity so the various avenues of research on this are many.
These are certain tones emitted at very high frequency which in turn produces an energy form that is naturally formed within the unit.
A simple example diagram is shown here.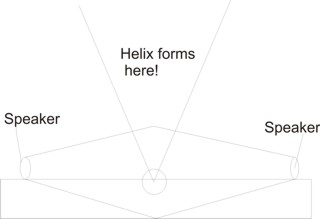 One sound is emitted from one side and the other compatible sound out the other. The helix forms from the combining of the two which in turn creates a dynamic energy force that form the helix in the center. This process will only happen with compatible pair sounds. You cannot just choose any two sounds.
As for the level of frequency that is where the math calculations come in.
Each sound has to have a different level of frequency which is one phase out from the other.
For arguments sake lets us simple fraction expressions.
side A would use 1221358.342 mhrtz while the side B would use 1221359.342
The percentage is 1 relative to the main body of the frequency. If we wanted to alter the delicacy of the signal then we adjust the fraction element.
Side A would be 1221358.342 While side B would be 1221358.352. That's an increase of .010 of a hrtz.
The result would be a dramatic alteration in the energy output from the unit. But it would be useful as a communications unit as such delicate adjustments would be useful for fine tuning over vast distances as this last phase the helix itself would be using a dynamic energy that is not radio wave based but rather (for want of a better terminology at this point) magnetically based in a 4d phase.
Please remember that the figures above are an example only and do not reflect actual used ranges.